Flooring Installation in Lubbock, TX
Since 1978, Quality Tile has been a local and nationwide provider of exceptional tile services. From remodeling work to custom interior design, patios to commercial spaces and beyond, our tile and paver work is the gold standard for excellence. Contact us today and let us put our proven experience to work for you.
Best-in-Class Tile Services From Proven Professionals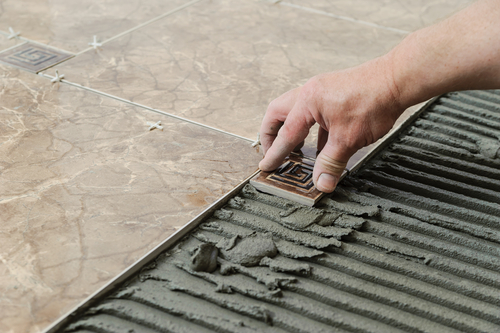 Tile is a beautiful medium that brings feelings of sophistication, luxury and beauty into your space. Whether it's your bathroom, kitchen, mud room or commercial space, tile looks best when it's laid by consummate professionals. At Quality Tile, we employ only the best tile contractors in Lubbock, TX, backed by more than 40 years of experience and the skill to complete your tile project to its highest specifications. More than that, we'll do it quicker and more affordably than just about anyone else, which means our reputation is also built heavily on customer satisfaction!
We work with tile in all different capacities, making us your all-in-one expert. Whether you're looking for a beautiful tile backsplash in your kitchen or a new bathroom tile flooring installation in Lubbock, TX, we're ready to provide it. We even do work for brick veneers, patios, countertops and all types of projects for commercial businesses. With experience that stretches projects of all sizes, both locally and nationally, you can expect nothing less than immaculate results when our tile setters are on the job. Contact us with information about your project and let us put our reputation for excellence to work for you.



We have more than 40 years of specialized experience with commercial and residential contracts, local and nationwide.




We're independently-owned and locally-operated. Our business was founded all the way back in 1978!




Our business employs some of the best tile setters in the region, guaranteeing precision craftsmanship that you can see!




We're members of the Tile Council of America and licensed contractors in the State of Texas.




Affordability is one of our core tenants and we make sure to provide each customer with top-quality results at reasonable prices.
Explore Quality Tile Options
To learn more about the many styles of tile we have to offer or to inquire about our tile setting capabilities, contact a member of our team today. We're ready to learn more about your project.
Proudly offering tile installation and bathroom remodeling to the residents of:
Lubbock, TX
Lubbock County, TX
Hockley County, TX
Hale County, TX
Floyd County, TX
Crosby County, TX
Lynn County, TX
& anywhere inside the continental United States.